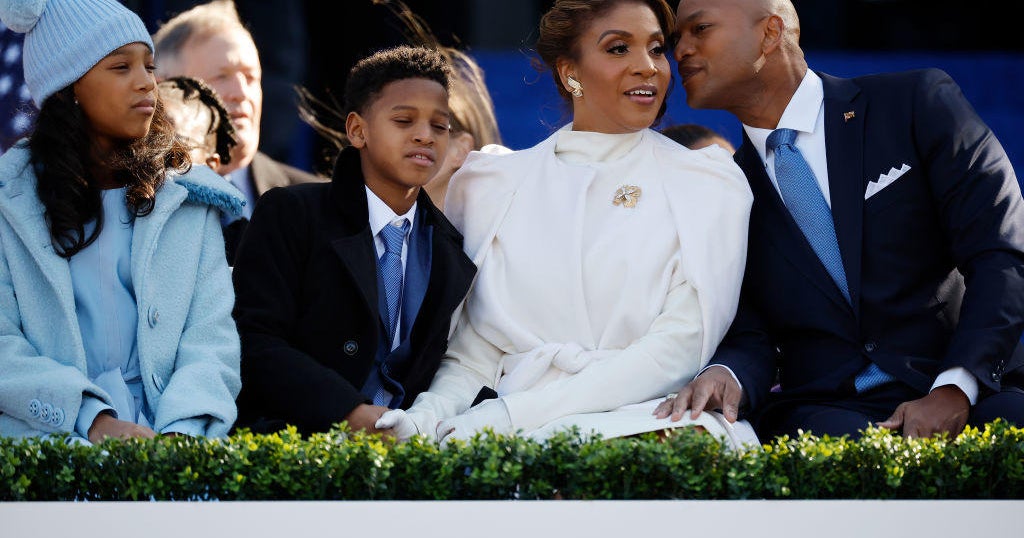 Baltimore fashion designer behind inauguration attire worn by Maryland governor's family
BALTIMORE (AP) — Jody Davis didn't know she would one day dress Maryland's first lady, Dawn Moore, for the inauguration. She didn't even expect to become a fashion designer.
Davis, 60, originally planned to be a veterinarian. But the summer after she graduated from Western High School in North Baltimore, she started "twiddling with sewing." She bought a yellow linen tablecloth from Goodwill Industries and transformed it into a top and skirt, which drew compliments from family, friends and even strangers.
"People started asking me to make what I had on for them or design pieces for them," Davis said. "But it took me seven years before I realized what I looked at as a hobby was actually my gift from God."
Davis, who grew up in Baltimore, graduated from the Fashion Institute of Technology in New York City. From there, she moved to Washington, D.C., and spent seven years working at retailer Neiman Marcus.
"My boss at the time, she said, 'Either you're going to quit or I'm going to fire you because you're too talented to be working on the sales floor when your garments need to be in, on the sales floor,'" Davis said. "That was the kick that I needed to get me out there and give me the courage to go out there on my own and start designing full time."
In 2010, Davis opened Jody Davis Designs downtown at 110 W. Saratoga St., where she's been ever since.
Davis said dresses make up 80% of her collection. And there are some outfits no client can get — the ones Davis wears herself. She said for the past 15 years, she's only worn her own designs, but she has exclusives so she never accidentally matches with a client.
Davis said her garments are "statement pieces" that all come with some stretch so the clothes "fit the body with elegance and class." Her garments range in price from $195 to $2,600. And, she said, her dresses allow a woman to "have a presence when she enters a room, without saying a word."
That was certainly the goal for the swearing-in ceremony look Davis cultivated for Moore. On Jan. 18, Moore wore a semi-fitted, white ponte jersey dress that fell below the knees with a high neck and long sleeves, with ruching at the waist. She had a matching cape made of lightweight cashmere. Davis said Moore's dress will be available for purchase in an upcoming collection expansion.
Davis said when she delivered the dress to Moore for a final fitting, the first lady's eyes lit up.
Moore did not return a request for comment.
Lana Rae was Moore's wardrobe stylist for inauguration day. She paired Moore's dress and cape with a vintage Cartier brooch and earrings from Smyth Jewelers, Sam Edelman boots and satin gloves. Rae said she pulled inspiration for Moore's monochrome look from former first lady Michelle Obama.
Davis got the outfit's materials in New York City. She said she would have preferred to go to Paris or Italy, but Moore wouldn't consider her inauguration look until after her husband clinched his November victory, so time was constrained.
Davis got to see her vision come to life in real time, watching from the crowd as Moore came down the steps in Annapolis. She said designing a dress worn at the historic swearing-in of Maryland's first Black governor was an out-of-body experience.
"I don't know if it really has registered, even to this day," Davis said.
Davis also designed the dress and coat for Moore's daughter, Mia, who appeared at the inauguration in a princess-style blue dress with a matching coat and knit hat with pompoms. Davis said when Mia was fitted, she went straight to the mirror to spin and dance in her new outfit.
Even Oprah Winfrey, who was the surprise introductory speaker at the inauguration, praised Davis' designs. In a video recorded by Rae and posted on Davis' social media, Oprah said she was going to be "looking up Jody Davis" and that she wanted a more "sophisticated version" of Mia's dress for herself.
"I really loved the way Dawn Moore, our first lady, is looking because it is sophisticated, it is elegant," Winfrey said. "It's also so now. You know, it's also so current. I mean you can't even define what that is, I've never seen that look before. And she's wearing it, it's not wearing her."
Davis said it was "pretty darn awesome" to be recognized by Winfrey, "the Midas touch herself." She said she's working on sending Oprah an item.
Kevin Scott, Davis' husband, also works in fashion. He owns Benedetto Haberdashery on 324 Park Ave., a men's clothing store, near his wife's boutique. The couple met when they were 17 years old.
Davis said as a Black woman entering the fashion industry, she had to navigate the world on her own.
"It was almost unseen to be in that space," Davis said. "It's not been easy, but it's been so rewarding to be using my gifts and talents to wardrobe women and make them feel good, make them feel special."
(© Copyright 2022 The Associated Press. All Rights Reserved. This material may not be published, broadcast, rewritten or redistributed.)
Related Posts